SHILOH ACRES is the home of the "Jaks" (linebred Easter King and Hollywood Gold AQHA Horses). We are located in the central part of the state of Wisconsin. We have been breeding foundation-bred AQHA horses for over 30 years, as well as ApHC horses. For over 15 years we have been successfully linebreeding the lines of EASTER KING, HOLLYWOOD GOLD, and LEO BINGO, and in 1993 introduced into our breeding program the bloodlines of BENITO BAR MARK, AQHA CHAMPION grandson of DOC BAR.
It all started in 1970 with the purchase of a red dun stallion who was a son of EASTER KING and out of the mare MISS HOLLYWOOD, by the name of EASTER 86 JAKPOT. He was a full brother to the well-known reining-horse sire, HOLLYWOOD JAC 86, and a full brother to MR. HOLLYWOOD RED (794 perf. pts., Res.World Champ., 3X HUS, Superior WP, etc.), and a full sister, KINGS BERNADINE (Hi-pt.Western Riding Horse in the state of Illinois in 1968).
EASTER was never shown due to an early injury, but sired both halter and performance winners. We used him strictly as a breeding horse, and he is the foundation on which we have built our herd to what it is today. He had the most amazing disposition, especially for a stallion, very good natured and kind, a real pleasure and joy to be around and work with.
Please take a look on the following pages at what we have available for sale with a concentration of his bloodlines, along with the bloodlines of some of the most well-known Quarter Horses known today.
Our goal at SHILOH ACRES is to produce good-looking, athletic horses that will excel in whatever direction a person wants to go; be it reining, cutting, working cowhorse, roping, team penning, or pleasure or halter.
PLEASE VISIT OUR SISTER WEBSITE FOR MORE INFO ON OUR HORSES.... http://www.geocities.com/shilohacres/index.html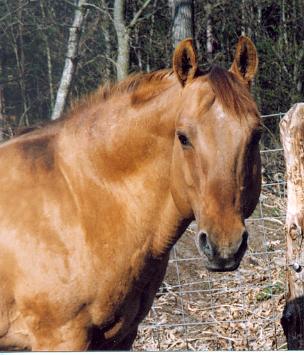 MORE INFO ABOUT "Easter"
There were 13 full brothers and sisters from the EASTER KING and MISS HOLLYWOOD cross. They are as follows: King's Bernadine, 1957; Alkali King, 1958; EASTER 86 JAKPOT, 1959; Jolly Holly 86, 1960; Hollywood Peg 86, 1961; Indio 86 King, 1962; Anita King 86, 1963; Miss Mateka King, 1964; Mya Hollywood 86, 1965; Tammy King 86, 1966; HOLLYWOOD JAC 86, 1967; Columbus Kid, 1968; and MR. HOLLYWOOD RED, 1971.
Shown above is "JAKS GOLD KING LEO", a 1979 son of Easter 86 Jakpot. "King" looks alot like his sire, "Easter", but is a red dun roan, instead of just a red dun as his sire was.
Our address is: SHILOH ACRES, Willard and Barb Claussen, N7201 14th Court, Almond, Wisconsin 54909.
Send for our 2-hour long video featuring all of our SALE HORSES, along with our Stallions and Broodmares, for a refundable deposit of five dollars refunded to you with the return of the tape to us.
MORE INFO ON "EASTER'S" BLOODLINES

KING P-234 is a Leading Sire and Leading Broodmare Sire of AQHA Champions, Race Winners, and NCHA World Champion Sire.
HOLLYWOOD GOLD is a NCHA World Champion Sire, Sire of AQHA World Champions, ROM Show, Sire of AQHA Superior Performance Horses.
EASTER KING - ROM Show, Leading Paternal Grandsire in the NRHA Money Earners in 1992. In 91,93,94 his offspring earned in excess of ,240.00 in NRHA competition.
MISS HOLLYWOOD got her Show ROM in 1957 and is the dam to HOLLYWOOD JAC 86, and MR. HOLLYWOOD RED, who for 11 years set a standard of excellence few would ever consider: 5 Perf. ROMs, 5 Superiors in Western Pleasure, Western Horsemanship, Hunter Under Saddle, 7 World Show Top Ten Awards in Pleasure Driving, HUS, W. Horsemanship, Hunt Seat Equitation and others.

REINER'S WORLD -- Check it out!!
A 2-hour long video is available of all of our SALE HORSES, along w/our Stallions and broodmares, for a refundable deposit.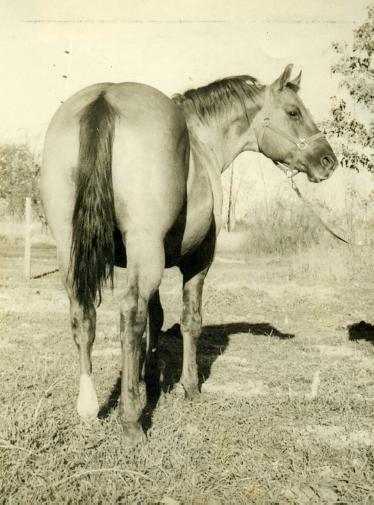 EASTER 86 JAKPOT about 1971
This photo was taken of EASTER shortly after we purchased him.